Begging His Graces: The Songs and Sins of pat mAcdonald
by the Artists of Steel Bridge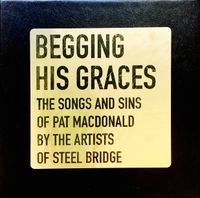 What started as a surprise expression of love for the former Timbuk3 frontman has now blossomed into a three volume, eight disk compilation featuring over 90 artists covering the criminally neglected treasures of his songwriting career, gems of his life's work.
At 127 tracks, Begging His Graces: The Songs and Sins of pat mAcdonald by the Artists of Steel Bridge Songfest, was recorded in studios all over the world, reaching as far away as New Zealand, Japan and Turkey to cities all over the United States from Los Angeles to New York City; Atlanta to Arkdale as well as in his own backyard in Sturgeon Bay, WI.
Brain-child of Joesph Kaftan--amateur musicologist and long-time friend--Volume 1 of Begging His Graces (a play off mAcdonald's 1999 album, Begging Her Graces), was presented to the songwriter during Steel Bridge Songfest 2015 as a tribute to his work and the collaborative community he's been fostering since his return to the States in 2004.
Following the release of Volume 1 overwhelming enthusiasm greeted the project and Kaftan felt compelled to continue on for the next 2 years producing two more volumes of dedications pulled from over 20 albums released throughout mAcdonald's 50 year career as a renowned songwriter, performer and recording artist.
Each song on the three volume compilation features an artist who has participated in Steel Bridge Songfest, mAcdonald's annual original music festival, most of whom also being core participants of the festival's week-long songwriting collaborative leading up to the fest known as The Construction Zone. 
At the project's completion 4 continents, 5 countries, 46 cities, 63 studios and near 300 musicians, producers, engineers, artists, photographers, writers and designers participated in making this collection a reality.
The collection is available through Steel Bridge Radio, an internet radio station that exclusively broadcasts the music written and recorded at The Holiday Music Motel where mAcdonald resides as Creative Director and hosts 3 collaborative songwriting events a year with partner/co-collaborator melaniejane.
Background and history of Steel Bridge Songfest: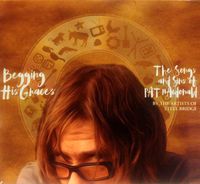 Steel Bridge Songfest is an annual music festival originated as a fundraiser to save Sturgeon Bay's Historic Steel Bridge in 2005. That was the year after mAcdonald returned to Sturgeon Bay from Barcelona putting his talents towards local efforts to save Sturgeon Bay's Michigan Street Steel Bridge from its scheduled wrecking ball.
The initial Steel Bridge was a wild success. Through music, the Songfest sirened the urgency of the Bridge's plight and built recognition for its historical significance in the community. Something else, too, was born out of that first Songfest: a collaborative spirit and a motel that acts as a hub for these collaborations to continue to grow and carry on and outward into the world.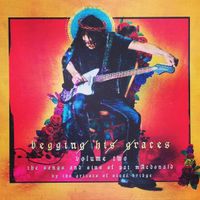 The Holiday Music Motel is a fully restored and operational, vintage motel that boasts its own radio station, exclusively broadcasting the music created within its own walls. Musicians gather here the week prior to the festival to take part in the annual Construction Zone songwriting intensive, where they co-write and record new material inspired by the bridge. The motel also hosts two other songwriting collaboratives: 'Dark Songs' taking place at the end of October and 'Love On Holiday' which takes place mid-February.
Songwriters and musicians, including Jackson Browne, Jane Wiedlin (Go-Go's), James McMurtry, Louise Goffin, and hundreds more have participated over the last decade, building bridges between artists from all over the world. Out of this community come many collaborative multi-disc compilations, including Steel Bridge Songs Vols.1-12, Dark Songs from the Holiday Vol.1-9, Love On Holiday: Songs of Love and Love Gone Away Vols. 1-6 and now, the three volume compilation of pat mAcdonald covers: Begging His Graces: The Songs and Sins of pat mAcdonald by the Artists of Steel Bridge Songfest.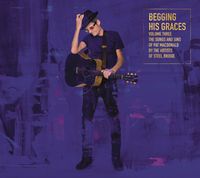 Since 2007, thanks to assistance from the National Trust For Historic Preservation and funds raised through the Songfest, Sturgeon Bay's Historic "Steel Bridge" has been protected as a national treasure, listed in the National Register of Historic Places. Steel Bridge Songfest continues to inspire artistic community and local activism.